2022 Acura MDX vs. 2021 Genesis GV80
Compare: 2022 Acura MDX vs. the 2021 Genesis GV80
The new Acura MDX has hit the market with a reimagined aesthetic and numerous amenities, and we've decided to see how it measures up against another new SUV in the 2021 Genesis GV80. If you hang your hat in Maple, Ontario or any of the nearby areas of Mississauga, Vaughan, or North York, find out how the 2022 Acura MDX fares against the new GV80 below before visiting our Maple Acura dealership to get better acquainted with Acura's latest three-row SUV.
Interior & Exterior Style
You'd be hard-pressed to find two more welcoming interiors than those of the Acura MDX and Genesis GV80. While the Genesis SUV's styling is clean and understated, it may be a little too understated for those who value an upscale experience more than most, and its optional third row of seating is rather cramped. The latest Acura MDX, by comparison, comfortably accommodates up to seven passengers and boasts various soft-touch materials for a cabin as welcoming as it is refined. Standard comforts include automatic climate control, heated front seats, and leather upholstery, with wood and metal trims available to those who want an extra touch of luxury in their cabin.
These SUVs are just as striking on the outside, with the 2022 MDX boasting a fresh new design for its latest model year. The Genesis GV80 may be easy on the eyes, but between its sleek body, chiseled front end, and Acura's patented Diamond Pentagon grille, the Acura MDX makes a statement like no other vehicle in its class.
Technology & Safety Features
Both these swanky SUVs come with extensive tech, but the GV80's appears far more frustrating to use than the Acura MDX's. With a long and slim infotainment touchscreen stretching across the top of its dash, the Genesis SUV's tech centre is a bit of a reach from the driver's seat. The 2022 MDX, on the other hand, strikes an ideal balance between practicality and connectivity, as its 12.3-inch touchscreen can also be accessed through a touchpad controller in the centre console. Apple CarPlay and Android Auto integration come standard in this reimagined Acura, as do wireless smartphone charging, a Wi-Fi hotspot, and in-dash navigation.
The MDX is just as thorough in the safety department. Indeed, this Acura standout joins our new inventory with a comprehensive suite of driver-assist and safety functions. Standard features include lane-departure warning with lane-keeping assist, automatic emergency braking with pedestrian detection, and adaptive cruise control, to name a few. The Genesis GV80 is no slouch in this area itself, but its safety perks come at a heftier price tag than the 2022 MDX.
2022 Acura MDX - Exterior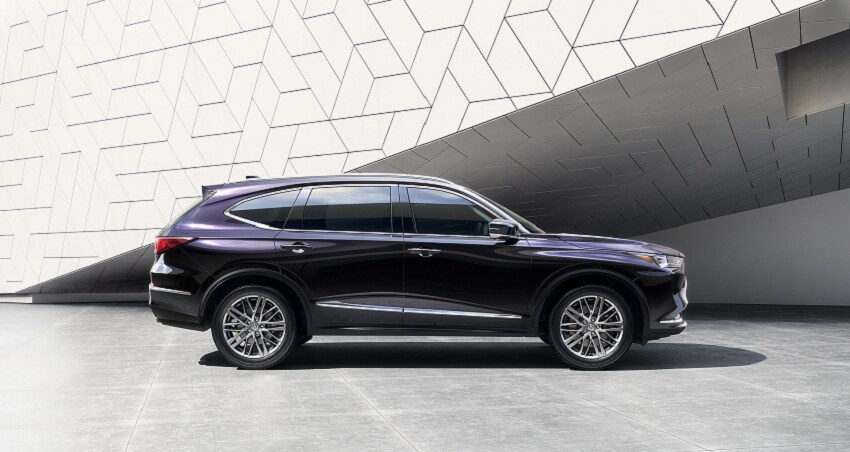 2022 Acura MDX - Interior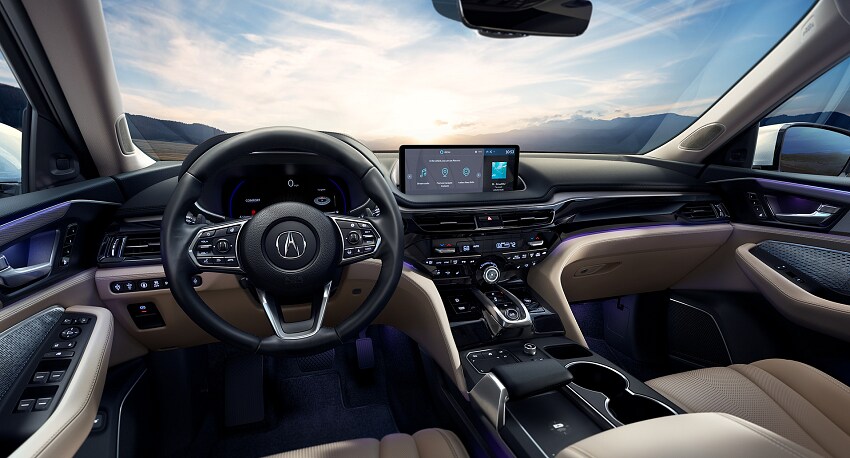 Performance
The Acura MDX and Genesis GV80 both pack plenty of power, but their rides are far from similar. The GV80 SUV may have the edge in raw pep, but as reviewers have been quick to point out, its steering can feel too weighted to those looking for a thrill. The 2022 MDX, on the other hand, offers athletic handling and responsive acceleration. This Acura SUV also packs a familiar engine in a 3.5-litre V6 with 290 horsepower, one that works with a 10-speed automatic transmission providing smooth shifts. In short, whether you covet a riveting drive or prefer smooth cruising, the new Acura MDX can accommodate.
Contact Us
If you'd like to schedule a test drive with the newly revamped Acura MDX, feel free to contact us at Maple Acura today. Our staff can also provide you with further details on this 2022 SUV, and our finance department can make your next purchase a stress-free process if you'd like to make the MDX yours. Get in touch with our dealership or schedule an appointment through our website to get started.
Make an Inquiry