Acura Safety Features
Acura's are known for engineering and designing cars with top performance, luxurious materials and styling, and advanced safety features, all at an affordable price. At Maple Acura, we want you to feel confident when driving; that is why we sell the latest Acura vehicles that come with innovative and intuitive safety and driver-assist features. Keep reading to learn more about some of the newest Acura safety and driver-assist features that deliver peace of mind wherever the road takes you.
Zero-Collision Society
Acura has an ambitious goal to create a zero-collision society with its SUVs and sedans. They are developing and engineering the latest innovative safety and driver-assist features to promote safer driving habits and fewer accidents on the road. Acura takes safety and security into account on a personal level, developing its vehicles with the best available safety features and offering them standard on every Acura sedan and SUV. Feel confident knowing that protection is at the heart of every Acura.
Collision Mitigation
Standard on every Acura sedan and SUV, the Collision Mitigation Braking System alerts drivers of any obstacle detected ahead. The system is programmed to provide visual alerts when it determines a possible collision or crash using radar and camera technology. It also provides automatic emergency braking for you when necessary.
Keeping Your Distance
Part of Acura's plan for a zero-collision society is the development of intuitive driver-assist technologies. One of these features is AcuraWatch, a collection of driver-assistance and collision-avoidance technologies that will make the road a safer place for everyone. Some standard features on every Acura sedan and SUV apart of this collection include Adaptive Cruise Control and a Lane Keeping Assist System.
Jewel Eye™ LED Headlights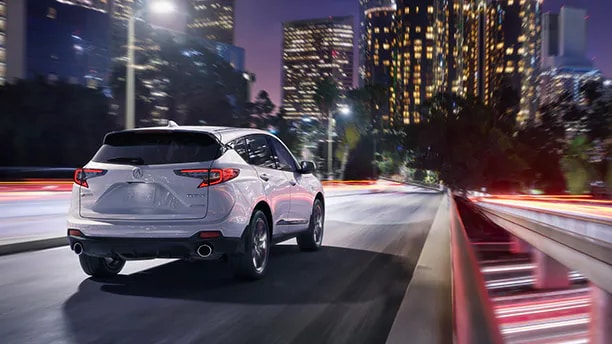 See what's ahead with the Jewel Eye LED headlights, part of Acura's commitment to helping you get where you need to go safely. Not only do they add a bold and striking look to the exterior of your Acura vehicle, but the white, brighter LEDs, combined with fog lights and auto-dimming capabilities, provide clarity for almost any condition that may come into view.
Vehicle Stability Assist
Conquer slippery roads caused by snow or rainy weather with the standard Vehicle Stability Assist. This driver assistance feature can reduce the dangers of oversteering, understeering, and loss of traction by reducing torque and applying brake pressure to each wheel as needed. You might not even notice the quick and seamless adjustment as it happens, but when you arrive at your destination safely, you'll be happy it did.
Blind Spot Information System
Set your mind at ease during long commutes with the standard Blind Spot Information System on your Acura. There to improve your situational awareness, this system notifies you when a vehicle is detected in your blind spot. The system's indicator beeps, promoting cautiousness and confidence with every move.
ACE™ Body Structure
Built to protect, the Advanced Compatibility Engineering (ACE) body construction is designed to help reduce and disperse force in the event of a front collision involving virtually all car sizes. It offers rigidity where needed and strategic crumple zones for the ultimate interior occupant protection.
Contact Maple Acura Today
For more information on how these jaw-dropping design features can enhance your Acura experience, feel free to contact us at Maple Acura, and a member of our staff will gladly fill you in.