2021 Acura TLX vs 2021 Lexus ES
2021 Acura TLX vs. 2021 Lexus ES Overview
In a crowded segment of sporty sedans, the 2021 Acura TLX sets itself apart from the competition in all the right ways. With a jaw-dropping design, formidable powertrain, and riveting ride, this new Acura sedan will win the hearts of driving enthusiasts who enjoy making a statement on the pavement. At Maple Acura, we thought it only natural to compare the latest TLX to a popular rival in the 2021 Lexus ES now that both are on the market. Customers in our home base of Maple, Ontario and the neighbouring areas of North York, Vaughan, and Mississauga can find out how the 2021 Acura TLX stacks up against the new ES below before visiting us to get better acquainted with our sporty sedan.
Interior & Exterior
The 2021 Acura TLX has style points to burn on both the outside and inside. Between its bold, sporty frame, sleek standard 18-inch alloy wheels, striking grille, and Acura's patented Jewel Eye LED lights, this new sedan is a real head-turner. A power moonroof and dual-rectangle exhaust tips punctuate the Acura TLX's daring exterior design, while its Lexus ES rival goes for something far more understated. In a segment where every sport sedan aims to rise above the rest with a bold aesthetic, the 2021 ES fails to make much of a statement. This Lexus sedan's streamlined bodywork and elegant grille are nothing to sneeze at, but it flirts with anonymity compared to bolder rivals like the TLX.
Our Acura sedan's interior is just as sporty as its exterior. Driving enthusiasts will be thrilled with the 2021 Acura TLX's style, materials, analog gauges, and a user-friendly rotary drive-mode selector in the centre of the dash. This sport sedan also one-ups the outgoing TLX with improved interior materials like genuine aluminum and open-pore wood, as well as various configurations for those who prefer a personalized cabin. Available enhancements include leather upholstery, several ambient lighting settings, and an available 10.5-inch head-up display. The Lexus ES, by comparison, is comfortable and easy enough on the eyes, but its storage solutions are limited, as its rear seat can't be folded to accommodate larger cargo.
2021 Acura TLX Interior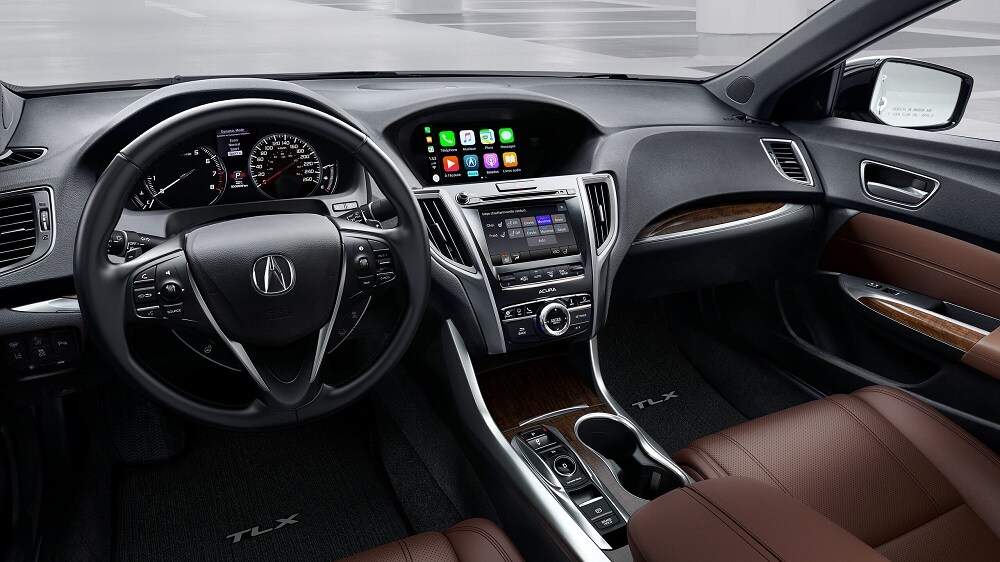 2021 Acura TLX Exterior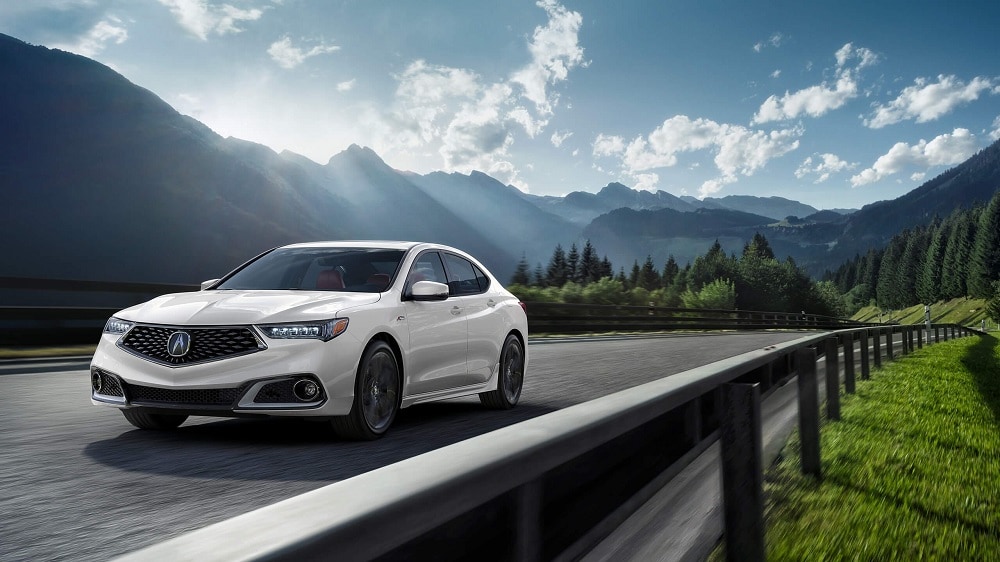 Performance
Appearances can be deceiving, but that's not the case with the 2021 Acura TLX, as its hardware delivers an engaging, dynamic drive that suits its bold looks. A base 2.0-litre turbocharged four-cylinder engine packs a solid 272 horsepower and 280 lb-ft of torque, while a 3.0-litre V6 with a whopping 355 horses is available for thrill-seekers. Both of these robust engines pair with a smooth 10-speed automatic transmission, with Acura's patented Super Handling All-Wheel Drive system providing optimal traction in various conditions. Thanks in part to a fine-tuned chassis, the 2021 Acura TLX is a blast to drive, with responsive steering and excellent body control contributing to its driving dynamics.
As for the 2021 ES, this Lexus sedan may be upscale, but motoring enthusiasts will be left wanting more from its performance. The new ES offers three available powertrains: a base 2.5-litre four-cylinder engine, a 3.5-litre V6, and a hybrid configuration. This Lexus' standard motor trails the Acura TLX's by nearly 70 horsepower, while its V6 packs nearly 50 less than its Acura rival's own V6. Not only are these Lexus ES engines lacking in pep, but their acceleration is also far too leisurely for the segment, and while the 2021 ES offers a composed and comfortable enough ride, its performance is far too tame to compete with its sportier competitors, the Acura TLX included.
If you'd like a test drive to see how the 2021 TLX's performance bests the Lexus ES', contact us at Maple Acura, and we'll be happy to oblige.
Safety
Both the Acura TLX and Lexus ES hit the market with excellent safety and crash-test ratings, but it's our Acura sedan that gets the nod in terms of driver-assist technology. An AcuraWatch suite of safety features comes standard in the 2021 Acura TLX, a package including a Forward Collision Warning system, Lane Departure Warning, and a Collision Mitigation Warning System. In addition to this comprehensive suite, the latest TLX also offers popular functions like Traffic Jam Assist, traffic sign recognition, and a driver-awareness monitor. In short, if you prioritize confidence at the wheel, this new Acura sedan has you covered.
For more on how the 2021 TLX can make every drive an experience, drop us a line at Maple Acura at your convenience.
Make an Inquiry