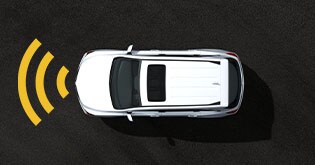 What is Road Departure Mitigation (RDM)?

---
RDM is designed to alert and assist the driver if the vehicle is about to unexpectedly leave the road. The system will apply strong steering correction and braking force to help stop the vehicle before a serious accident occurs.
How does Road Departure Mitigation (RDM) work?

---
When RDM is activated, a camera mounted at the top centre of the windshield detects lane markings to monitor the vehicle's position on the road at speeds between 72-145 km/h. If the vehicle drifts from the intended lane without the use of a turn signal, a visual warning appears in the MID, accompanied by an audible chime and subtle steering assist to help the driver guide the vehicle back to the centre of the lane.
If the system determines that its steering input is insufficient to keep the vehicle on the road, it may also apply braking force. Braking is applied only when the lane markings are solid continuous lines. The system cancels assist operations when the driver turns the wheel. Adjusting RDM Settings To adjust RDM alert settings, follow these steps:

Adjusting RDM Settings

---
To adjust RDM alert settings, follow these steps:
Press the SETTINGS button
Select VEHICLE SETTINGS
Select ROAD DEPARTURE MITIGATION SETTINGS in the DRIVER ASSIST SYSTEM SETUP tab
Choose between NORMAL, WIDE or WARNING ONLY to adjust the sensitivity of the system.
Customer Benefits

---
RDM is helpful during long-distance highway driving when driver fatigue is more likely to occur. RDM helps keep the driver aware of the road ahead and the vehicle within the intended lane on the road. RDM not only helps keep the driver safe but surrounding motorists as well.


Turning RDM ON/OFF

---
 RDM can be disabled by pressing the

LDW/RDM button

to 

 

the left of the steering wheel.


Operating Conditions and Limitations

---
RDM is an assistance system and has limitations. It is the driver's responsibility to keep the vehicle within the lane
RDM only issues alerts when the turn signal is NOT in use
If set to WARNING ONLY, RDM will not provide any steering or braking assist
RDM may not operate properly:
If no lane markings are present
While driving on corners or curved roads
If the windshield wipers are in continuous operation
In heavy snow, rain or fog
If the sensing camera is obstructed