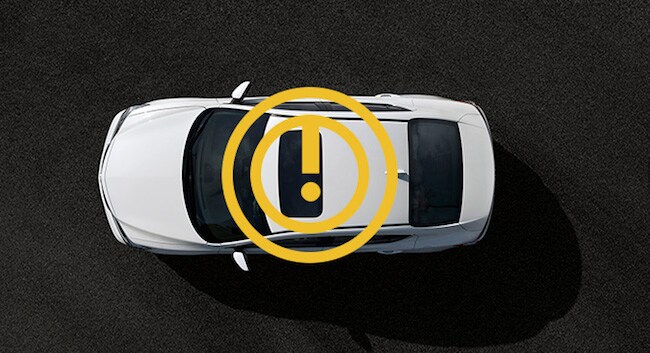 What is Collision Mitigation Braking System?

---
Collision Mitigation Braking System alerts the driver when a potential front-end collision is detected and can even apply the brakes to help slow the vehicle and avoid a collision.
How does CMBS Work?

---
CMBS uses a front-mounted camera and millimeter-wave radar to monitor traffic conditions ahead. If the vehicle in front suddenly stops, or a pedestrian is detected in the vehicle's path, CMBS alerts the driver in three stages (CMBS may not use all of stages, depending upon the circumstance).
Stage 1: When the initial risk of collision is detected, CMBS issues an audible and visual warning, prompting the driver to take corrective action (this is also part of FCW).
Stage 2: If the driver does not take action and the distance from the object shortens, CMBS continues the audible and visual warnings and applies gentle brake pressure to provide a sensory warning and prompt the driver to take corrective action.
Stage 3: If the driver has no taken action and a collision is imminent, CMBS continues the audible and visual alerts and fully applies the brakes to help the driver avoid the collision. The seatbelt e-pretensioners are also engaged to prepare for a possible collision.
Customer Benefits 

---
CMBS is like having an extra set of eyes that never blink. By immediately recognizing quickly diminishing following distances, issuing two different warnings, and even applying brakes -- it can help even the most attentive driver avoid a front-end collision. Furthermore, it can help the driver avoid a collision with a pedestrian.
Operating Conditions and Limitations 

---
Accuracy of the system will vary based on weather, speed and other factors.
It is always the driver's responsibility to safely operate the vehicle and avoid collisions.
Never apply a firm or attach any objects to the windshield that could obstruct the CMBS camera's field of vision.
Scratches, nicks and other damage to the windshield within the CMBS camera's field of vision can cause the system to operate abnormally.
CMBS may not activate or detect a vehicle under certain conditions. See the vehicle's owner's manual for a complete list of conditions.
Turning CMBS ON/OFF


---
The driver is able to turn CMBS on or off, based on his/her preferences. To turn CMBS on or off, press the CMBS OFF button located to the left of the steering wheel for about one second.
When CMBS is off:
The beep sounds
The CMBS indicator in the instrument panel illuminates
A message on the multi-information display reminds you that the system is off
CMBS is in the previously selected state each time you start the engine