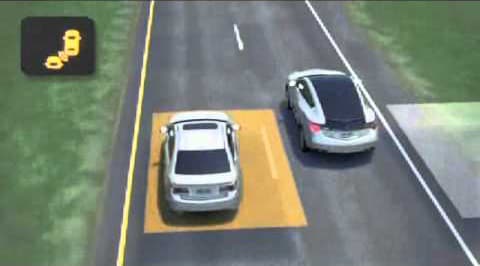 Blind Spot Information System
Blind-spot monitoring is an active and passive monitoring system that uses electronic detection devices mounted on one side of the vehicle. It sends electromagnetic waves that will then be analyzed and assessed to determine whether alerts are sent to the driver. When the blind spot detectors notice a vehicle is getting close to your car, it will notify you about the issue. For advanced systems, the car will steer itself away into the previous lane or a safety zone.
Passive Blind Spot Monitoring system uses mirror technology. The car manufacturers usually offer alternatives whereby you're supposed to put a convex mirror at the corner of your car's rearview mirror to view areas where the standard rearview mirror cannot. If you don't have such a blind spot monitoring system, you should consider ordering this Genuine Acura part through our Parts Centre. This part can be installed as a DIY project or at our authorized Acura Service Centre. Contact us for more details.
If Blind-Spot Monitoring is on your must-have checklist of safety features, contact us or join us at Maple Acura, where we showcase new and used Acura models that feature this innovative safety technology.
Step-by-Step Instructions on How To Use Your Blind-Spot Monitoring Technology:
The following steps will guide you on how to use the blind spot information system offered by Acurawatch technologies:
Your vehicle should be moving at 35 km/hr for the blind spot information system to operate.
Blindspot information systems use radar sensors present at the rear bumper corners, and they detect when another vehicle is approaching.
The detection is on both sides of the vehicle within proximity of at least 10 feet.
The system is always ON. The manufacturer saves custom settings, which connects to the key fob.
If the blind spot system detects a vehicle on your right-hand side, a flashing light appears on your car's right mirror, depending on your vehicle's make and model. Similarly, the flashing indicator light on your left-hand side is activated when a vehicle is detected to your left.
To activate the turn signal in the vehicle's direction that has been detected, the system beeps three times, warning you about the car nearby.
How to Change the Blind Spot Alert Type (MDX, TLX, RLX, ILX):
The vehicle should be in Park (P)
Click on the SETTINGS button
Select vehicle settings using the selector wheel and choose Blind Spot Info.
Select the alert type: Visual, Audible and visual, off
Press the back button and exit
Changing the Blind Spot Alert Type (RDX)
Before changing your settings, your vehicle should be in the Park position
Using the touchpad interface, select settings> vehicle> driver-assist system set up> Blind Spot information
Select the alert type: Visual, Off, Audible and Visual
Press back to exit
Essential Tips When Using a Blind Spot Information System
You cannot operate the system while your car is in reverse.
The blind spot information system doesn't detect all objects. Objects you should be on the lookout for, including small vehicles and motorcycles.
The rear bumper corner area shouldn't be covered using stickers or labels.
The blind spot information system is only for convenience. Check your mirrors and each side of your vehicle before changing lanes.
Find An Acura Model with Blind-Spot Monitoring
The MDX model is equipped with the blind spot information system, which helps you make lane changes. Most new Acura models will feature this technology standard on the AcuraWatch system.
If you are familiar with this technology but not on an Acura model, we encourage you to come by our dealership location and take a new Acura out for a test drive.
Make an Inquiry
Hours
Monday

9:00 AM - 7:00 PM

Tuesday

9:00 AM - 7:00 PM

Wednesday

9:00 AM - 7:00 PM

Thursday

9:00 AM - 7:00 PM

Friday

9:00 AM - 5:00 PM

Saturday

9:00 AM - 6:00 PM

Sunday

Closed