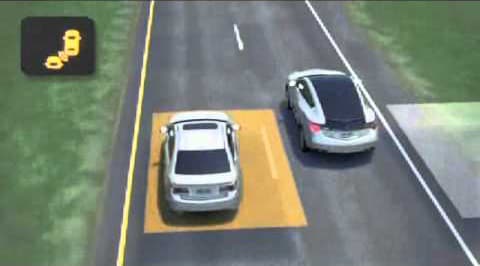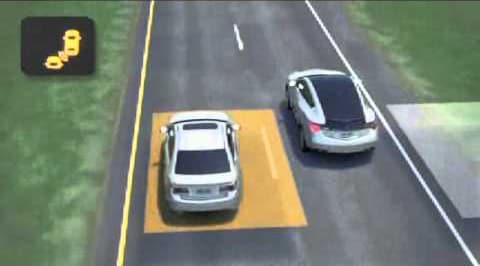 What is Blind Spot Information System (BSI)?
BSI is designed to detect vehicles in alert zones adjacent to your vehicle, particularly in harder to see areas commonly known as "blind spots".
How Does Blind Spot Information System (BSI) work?
BSI uses rear bumper radar sensors to detect vehicles approaching from behind in adjacent lanes. When a vehicle is detected in the zone, one of the following will occur:
Turn Signal Activated in Direction of Traffic: A flashing indicator light along with an audible warning alerts the driver.
Turn Signal Not Activated: A solid indicator light alerts the driver.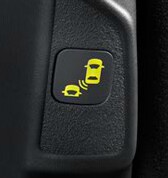 How to Adjust Blind Spot Information System (BSI) Settings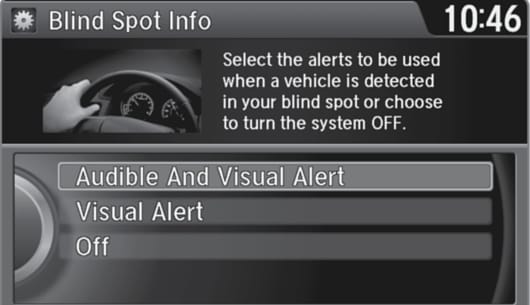 To adjust BSI alert settings, follow these steps:
Press the SETTINGS button
Select VEHICLE SETTINGS
Select BLIND SPOT INFO in the DRIVER ASSIST SYSTEM SETUP tab
Choose between AUDIBLE AND VISUAL ALERT, VISUAL ALERT or OFF
Customer Benefits
The Blind Spot Information System helps keep the driver more aware of his/her surroundings, helping to promote safer lane changes.
Operating Conditions and Limitations
BSI is a convenient feature only. Always visually check traffic before attempting a lane change
BSI is active at speeds between 32-160 km/h
The BSI alert may not illuminate if:
The rear bumper sensors are dirty or obstructed
There is heavy rain, snow or fog
A small object like a motorcycle is detected
The speed difference between the vehicle is greater than 10 km/h
A vehicle does not stay in the zone for at least 2 seconds
Available on 2016 Models 
ILX  PREM
TLX TECH 
RLX  TECH
RDX  TECH 
MDX NAVI