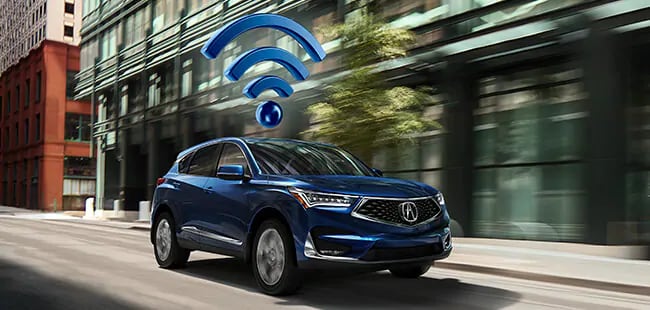 AcuraLink Technology
If you enjoy having accessible information at the touch of a button when you need it, then you will love AcuraLink technology. AcuraLink allows you to connect with your Acura from the palm of your hand with your smartphone, tablet, or computer regardless if you are in Vaughan, any part of the Greater Toronto Area, or anywhere your Acura takes you.
Convenience
Heading out for the day but unsure of how your drive will look or which route is the best to take? You can now plan your routes in your navigation system using AcuraLink technology and send destinations and directions directly to your Acura vehicle.
You can also access convenient features such as; find my car when you forgot where you parked, remote lock and unlock when you second guess yourself and think you may have forgotten to lock your doors, receive up to date traffic information straight to your navigation system to avoid unexpected delays, and personal concierge service to help you make hotel or restaurant reservations.
Safety
In the event of a collision, the automatic collision notification will connect you with a live agent assistance who are trained to assess your situation and send emergency services your way.
Maintenance
Receive a notification on any Acura Canada recalls issued for your Acura, access to your owners manual, and roadside assistance 24/7 to your location. You can also Schedule a Service Appointment with Maple Acura directly from your smartphone and receive a notification when your appointment is approaching.
Contact Maple Acura to find out which Acura model vehicles are equipped with AcuraLink technology and for more information on the advantages of owning and driving an Acura!
Learn about AcuraLink packages, features and complimentary trials!